Article by: Lucian Mihailescu
Intercer History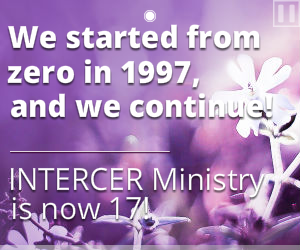 In early June 2014 Intercer celebrated 17 years of activity! Intercer started as the first created Romanian Adventist website, and today Intercer has a network of biblical websites continuing to be the most popular Romanian Adventist website, with a monthly average of 60,000 unique visitors.
Intercer activity started from zero in 1997. In 1996 I was my local church host for Net'96 satellite seminar and I found out about the "It Is Written" Adventist website (iiw.org). Then I was able to visit it for the first time in 1997, after an internet connection was introduced at our work. Then I managed to access the Internet from friends and later from home. At that time, dial-up was quite expensive for an individual user. By the way, my wife Rozalia was baptised in 1996 after Net'96 series.
In the summer of 1997 we began the creation of the first Romanian Adventist website at the time. This was the website for the Seventh-day Adventist Church in my home town of Slobozia, Ialomita, Romania. The idea of creating an Adventist website came when I read the article "Internet & the Gospel" by Octavian Lupu. Then we continued our activity through our newly created Intercer Non-Profit Organization, known also as Intercer. "Intercer" is a short for "Internet to Heaven".
We did not get any salary for the first 12 years of our activity. We received donations, but these were not enough to support the ministry expenses. So we also personally contributed to cover all ministry expenses, including paying third-party providers and so on. Since 2009 we try to build a self-supporting system to allow us to continue to maintain and develop new features for our websites. But it's not easy through these tough times, and we only got a partial salary since 2009. If it wasn't for our continuing volunteering, the ministry would have stopped long time ago.
Read how you can support Intercer ministry or go to Intercer Donations page . Read our appeal: "Please pray for our Intercer Ministry to not close down".
Note: Read about the changes to our ministry since October 1st 2013 on intercer.ca 
We want to thank God for His help all these years. Also we want to say "Thank you!" to our co-workers, sponsors, collaborators  and website visitors!
Our newest video clip May 2013 – "The Message Goes On"
Intercer Interview – 15 Yrs Anniversary
Read the Intercer 15 Years Anniversary Interview & Transcript.
About Intercer
Intercer Romania is a Non-Profit Association composed of Seventh-day Adventist Church members in Romania and abroad. Intercer Canada (International Christian Education & Relief Society) is our similar Non-Profit Organization in Canada. The two organizations work together to support the objectives underlined below.
Intercer Ministry Objectives: The purpose of Intercer Ministry is to promote a system of information and materials based on the Christian & humanitarian principles, contributing to programs of interest for children, youth and adults and fighting for a culture of health, morality and good understanding in society. These materials are promoted through all media: Internet, printed materials, video, audio, radio and TV. Intercer runs voluntary activities, providing many Internet services, and social activities.
Intercer Ministry Provides:  Cornilescu Romanian Bible (text and audio), the Bible for mobile phone (biblephone.net), various studies and biblical materials, E.G. WHITE writings in Romanian, current Adventist news from Romania & around the world, email newsletters sent both to  Adventists and non-Adventists, children and youth materials and magazines, Christian music, audio-video, radio and TV, interactive bible quizzes, a prayer request page, photos, PHP & MySQL free courses, forum, chat, guest book, classifieds, a mobile app, advertising services and more. Intercer hosts and / or supports the internet presence of many Romanian Adventist websites.
Watch a short presentation with "Lessons from Intercer Adventist Ministry 15 Year's of Activity"
Read the "Lessons from Intercer SDA Ministry 15 Year's Anniversary Transcript"
Intercer Stats: Intercer has now a network of biblical websites and continues to be the most popular Romanian Seventh-day Adventist website, with a monthly average of 60,000 unique visitors. Our most visited section is Intercer Tv, which provides every week various Adventist Church audio-video programs, from Romania and diaspora. Intercer TV continues to be the most visited section of our website. The Romanian MP3 Audio Bible also is among the most downloaded materials on our website. Intercer helps promoting various programs and events for the Adventist Church and other social activities.
We are glad that our Bible & spiritual material presentations are downloaded often and we were able to contact a large number of people. Intercer managed to integrate young people in Gospel related online activities. Intercer mediated hundreds of social and health cases, resulting in resolving or improving these people's situation. We receive positive messages from our website visitors. They appreciate the richness of biblical resources and audio-video sermons made available for free. We have a 56% overall returning visitors rate and 30% returning visitors on our English website.
Intercer Projects
Intercer pioneered many web activities for the Adventist Church, being among the first Romanian Christian websites at the time. Intercer is a role-model in presenting  different Christian materials and ideas on the internet. We work in good collaboration with various local church organizations and ministries from Romania & other European countries, US (Simpleupdates, Plusline, AdventSource, TagNet, Amazing Facts, It is Written) & Canada ( BC Conference).
Watch a short 5 min presentation about "How to start a pioneering ministry"
You can read some of the articles from this period published in the North-American Seventh-day Adventist websites, including ANN News of August 4th, 1998 about the "Romanian Bible on the Internet":
http://en.intercer.net/about-us/articles-about-intercer.html
Here are some of our project time landmarks:
* First Romanian Seventh-day Adventist website, started in 1997
* Romanian Bible on the Internet, July 1998
* Email newsletters, started September 1998
* ANN news translated in Romanian, 1998-2000
* Represented the Seventh-day Adventist Romanian Union on the internet before their website was ready, 1998-1999
* Presented "NET"satellite seminar materials on the Internet between 1998-2003
* Chat bible studies, 1999 (we volunteered for Net New York seminar chat)
* Intercer Server donated by some of our friends in Chicago, December 1999
* First Romanian Adventist online shop, with music & biblical resources cd/dvd, December 2001 (Lucian Web Service)
* First Adventist  Classifieds website,  AdServ.ro, August 2001
* Intercer TV, started in February 2004 [ read here "Romanian-English Intercer Tv Anniversary"]
* MP3 Romanian Audio Bible (Gaius Maximus Romania, lecture by Alexandru Sorin FARC), December 2006
* Mobile Adventist Hymns, March 2007 (Gaius Maximus Romania; Octavian Lupu)
* Mobile Bible in 70+ languages ​​& over 100 editions, in 2007 (Octavian Lupu, biblephone.net)
* Social media integration (Facebook, Twitter, LinkedIn, later G+, Pinterest, Instagram), since 2008
* More fundraising activities, advertising and event promotions, started August 2009
* SMS donations, 2009
* Romanian Translated Bible Study Blog, a collaboration with Amazing Facts, 2009
* "Steps to Christ", text and audio book, 2010
* E.G WHITE Audio Books, in collaboration with Gaius Maximus, 2010
* General Conference session Romanian website, Toronto 2000, St.Louis 2005, Atlanta 2010
* Directory of Romanian Adventist website links (link.intercer.net), 2010
* Intercer Extended News, including current Christian & Tech news (noutati.intercer.net), 2010
* Intercer Video Clips, including Adventist YouTube & Vimeo videos (tv.intercer.net/clip/), 2010
* Intercer Mobile Website (intercer.mobi), 2010
* Intercer & Media Seven Live programs (mediaseven.intercer.net), 2010
* New design and functionality for the Intercer website, using WordPress, 2011
* We relaunched Intercer English website (en.intercer.net) under the new name "Intercer Adventist News" .
Intercer Adventist News provides selected news & media feeds. If you have an RSS feed with your church website news, let us know and we will promote it on our website!
* Intercer Mobile app, includes Intercer News, Intercer TV, Facebook, Twitter, Instagram and other items, 2012
* We worked to involve more churches and secular organizations to post news and audio-video programs
* We promoted social, school & academic cases and made contacts with other organizations who may help
* Intercer TV updates, including viewing for smartphones & tablets, 2012
* The launch of a new friendship website, open for all ages, end of 2012
* The new Intercer Tv responsive website, beginning of 2014
* … More in 2014 and beyond!
Support Intercer activities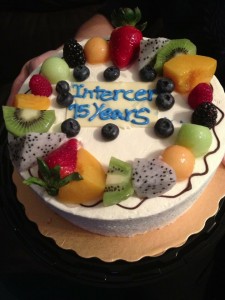 Intercer work is supported by donations and sponsorship's from individuals and various organizations.
Visit Intercer Ministry donations page at: https://intercer.ca/donations (English language) or http://intercer.net/donatii (Romanian language).
We provide a non tax-deductible receipt for all donations received in Canada, and a sponsorship contract or a receipt for all donations received in Romania.
A tax-deductible receipt is available for our US donors, if you donate for Intercer project through our US partner organization – Symposia Community Bookstore INC.
Thank you for your support!
You can contact us at info@intercer.net . Visit Intercer Adventist News at http://en.intercer.net .  Read more or view photos from the Intercer activity history at http://intercer.net/istoric . (Romanian version, with Google translation)
Lucian is a member of the Westminster Seventh-day Adventist Church, BC, Canada and he lives with his family in Maple Ridge, BC. Lucian has a Bachelor of Science in Computer Science from the University of Bucharest and a background in High School Computer Science Education. He  is also a Computer Programmer with 20+ years of experience. Lucian worked as a subcontractor for the developing of the Adventist Church / School Connect project and presented  ACC/ASC seminars in various locations throughout BC. Currently Lucian works as an Affiliate & Social Media Manager for his company LucianWebService.com and provides web hosting for both church and business companies