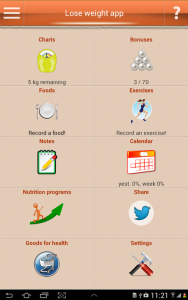 I came across the "Lose weight without dieting" Android app by Harmonic Soft when I looked for a personalized and efficient lose weight app .
There are many lose weight apps, with similar features. One of the main features, present also in "Lose weight without dieting" is that allows you to record your food choices and exercises, so you can monitor your overall calorie intake.
Instead of carrying around a journal, this app will help your record your stats digitally, which is more convenient. If you forget to store your daily numbers, the app will send you a reminder.
One of the big difference this app makes is that encourages its users to lose weight by including Bonuses. You can start from newbie and make your way up to the champion level. All you have to do is follow the food recommendations and do exercises like walking, jumping, running or swimming.
Another important feature of "Lose weight without dieting" Android app consists in its excellent nutritional program.
The app can schedule your food & exercise program for the next one or two weeks.
The app includes synchronization for multiple devices, such as smartphones and tablets, making it easy to take your schedule with you or continuing where you left off on a different device.
"Lose weight without dieting" app includes these unique features:
calorie count charts
nutrition and exercise diary
calculation of a daily norm of calories, proteins, fats, and carbohydrates
history charts
meal reminders
take pictures of your meal and record it in your diary
tracks your weight, your bust, waist, and thigh measurements
tracks your water consumption
predefined weight loss plans
You can use bonuses to get discounts when you buy the full app version. This way, you can get the full app version from $1.49 to $5.99, depending on your bonus level.
Don't wait! Start losing weight today with "Lose weight without dieting" Android app!