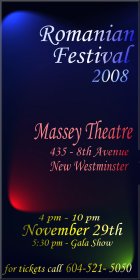 Date: November 29, 2008, 5:30 pm – 10 pm.
Location: Massey Theatre, 735 – 8th Avenue, New Westminster
This event is annually organized by the BC Romanian Community Center and is dedicated to the Romanian National Day – December 1st.
More detalils at:
Event review
Intercer Canada participated for the third year consecutivelly to the Romanian Festival. We bought a booth space and we offered free health magazines, Christian books and brochures, cds and dvds with Christian music etc.
This year we distributed freely aprox. 200 items (books, magazines, cds, dvds).
Ionel Coman performed and sang the Romanian National anthem at the beginning of the program. Intercer Canada was presented at the Festival as a sponsor in the program booklet, on the screen and through flyers.
Thank you to our members Catalin, Rosy, Daniel, Lili, Ionel for helping with this event! Also thank you to some donors who made possible for us to participate at this event.
You can watch a video and view some pictures below.