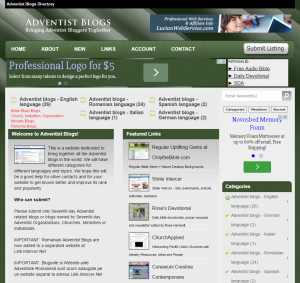 Lucian Web Service & Intercer Canada launched a new Adventist website:
www.AdventistBlogs.Intercer.net
This website goal is to bring together adventist blogs from all around the world. The Website is made in English language for a large access. The proposed blogs are organized by languages and by blog content. Submitter may propose new categories.
We accept Institution, Organization, Church, or Seventh-day Adventist member blogs that have content in accordance with the Seventh-day Adventist Church doctrine.
If you have an adventist blog you can submit it at www.AdventistBlogs.Intercer.net :
– free submission – with a reciprocal link to AdventistBlogs.Intercer.net
– $10 USD/year – regular link (no need to add a reciprocal link to us)
– $50 USD/year – featured link in its own category (these links shows at the top of each detail category page)
To submit links and articles you need to first register.
Then, after you login, click on Submit Link. For Category choose one at the section Adventist Blogs – English language.
You can also click Submit Article button to propose an article to our website.
Lucian Web Service is an Internet company for web hosting, quality small business and corporate website design, e-commerce, content management system, media, domains, online stores, advertising, web school, online marketing, located in Maple Ridge, British Columbia, Canada.
INTERnational Christian Education & Relief Society, operating as Intercer Canada, is an Adventist non-profit Organization based out in Maple Ridge, British Columbia, Canada. Intercer Canada's goal is to promote Gospel through Internet and volunteer for social services.
We wait to see your blogs submitted @ AdventistBlogs.intercer.net!
God's blessings,
Lucian Mihailescu