This is a video animation presenting our "Adventists on G+ Directory".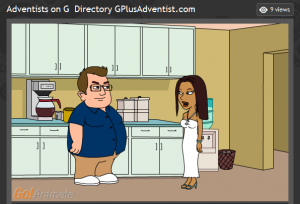 Watch all "Adventist Tech Talk" episodes here: http://goanimate.com/user/0o27xutr2mlQ

#AdventistPages #Adventist #AdventistTechTalk #SDAChurch #HappySabbath #AdventistMusic
http://goanimate.com/videos/0VwlMQz3fLAM

Embedded Link

Adventists on G Directory GPlusAdventist.com

Gilbert meets Rosy and finds out about the "Adventist on G Directory" located at http://GPlusAdventist.com . Rosy introduces also their Intercer ministry located at http://En.Intercer.Net

Google+: Reshared 3 times Google+: View post on Google+
Home | About Us | Make a Donation | Activities | Resources | Photo Gallery | Calendar | Links | Contact Us | Romanian

Latest Articles
Make a Donation
Romanian-English Intercer Ministry Celebrates 15 Years of Activity!
GPlusAdventist.com - a Response to Adventist Tech Talk - Feb.2012
Adventists on Google+ Directory - Oct.- Dec.2011
Adventists on G+ Directory Youtube Video Tutorial - Jan.2012